Idnet arbetar med effektiv logistik för butik och lager. Med olika logistiklösningar hjälper man sina kunder att öka lönsamheten samt förenkla arbetsrutinerna och förbättra arbetsmiljön och ergonomin för personalen.
Sedan flera år tillbaka hjälper vi till med en mängd olika typer av texter på svenska och engelska: företagspresentationer, hållbarhetskommunikation, nyhetsbrev, pressreleaser, webbtexter, produktbeskrivningar samt undertexter till korta filmer.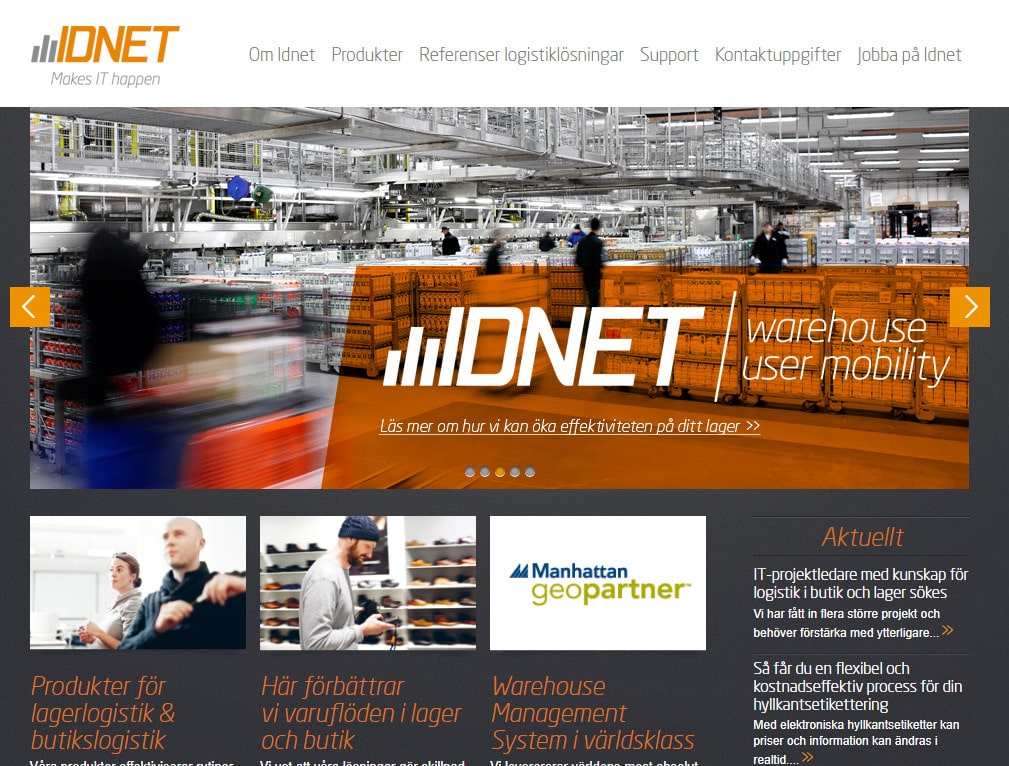 Exempel på text:
The Freefloat brand becomes part of the Idnet family
The software company, Freefloat, has been providing software worldwide to companies for bar code integration and terminal emulation for over 10 years. Since the beginning of the month the entire product line, including support and development has been taken over by Idnet.
Freefloat delivered its first license in 2003 and has since been rolled out across 1,000,000 licenses globally.
"From the beginning, Idnet has been one of our biggest customers, so it feels quite natural that the ownership of the brand is incorporated completely into their business," says Jonas Soomer, General Manager at Freefloat AB.
"A lot of the input we have received when developing our software has often been directly linked to several of Idnet's large customer projects," Jonas continues.
"Freefloat's software is often an important part of the various solutions we deliver to our customers," says Magnus Alm, CEO at Idnet.
"They create unique possibilities for how we can build our logistics solutions and enable our customers to simplify their information flow and their work processes to the maximum. It provides our customers with significant competitive advantages that we are pleased to be able to preserve in this way," Magnus Alm concludes.
The change has already been implemented and that means that Idnet's workforce now also includes Freefloat's employees.  All sales, regardless of the market, now go through Idnet.