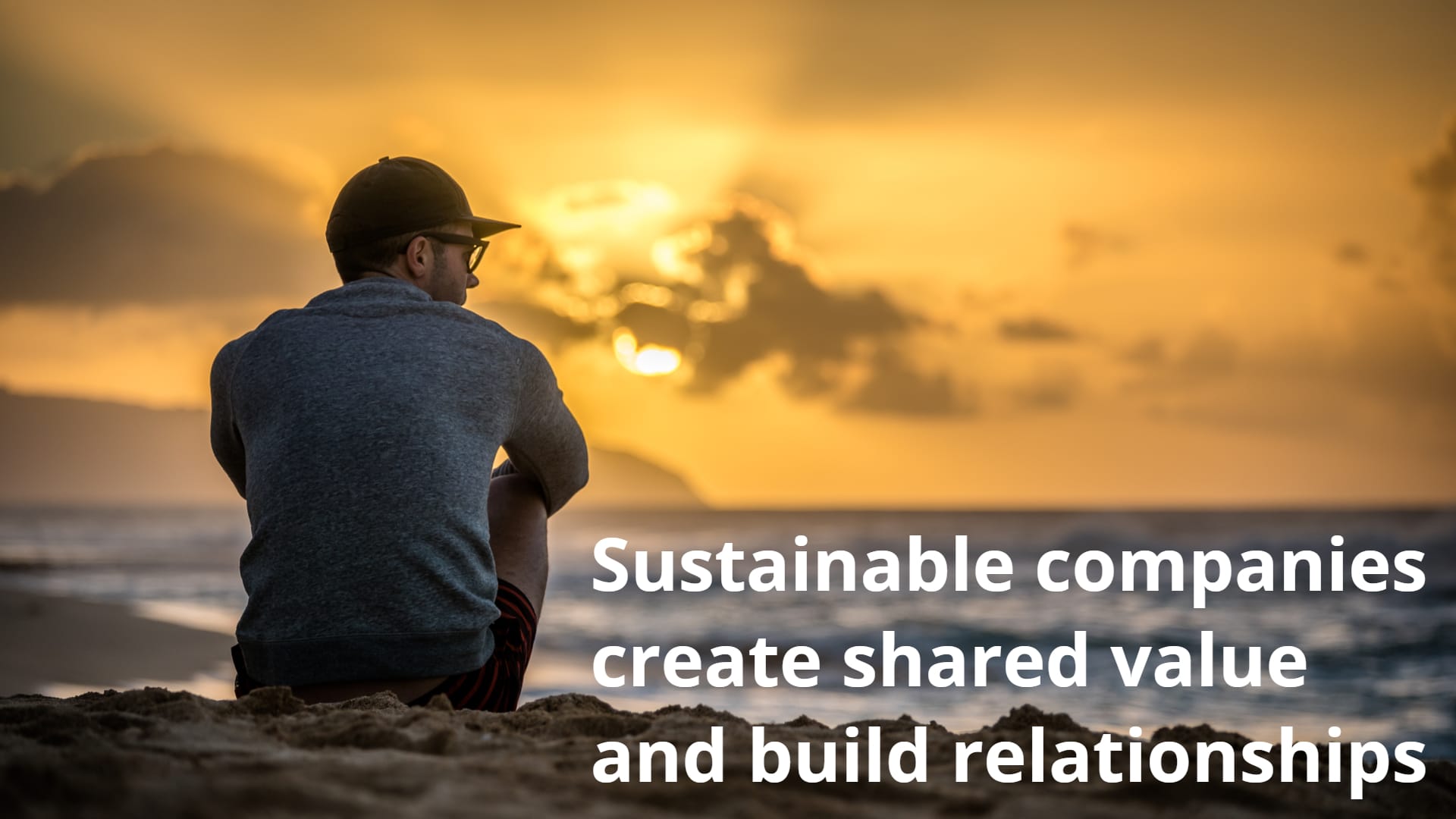 Get help from a sustainability change coach to kickstart och communicate your sustainability work. Together we will set up an action plan, and you get support and pep talk along the way.  
Focus and purpose are your company's compass in a sustainable world
To remain relevant, companies must work sustainably and create shared value for their customers. It builds relationships and helps you find your niche in the market. A blue ocean of new business opportunities.
Together, we set up the sustainability work based on your business and at a pace that works for you. This helps you find your focus and purpose and create a map for the road ahead. You subscribe to the coach services monthly for as long as needed during the work process.
A Sustainability Change Coach helps you to…
Analyze the company's impact along the value chain
Identify a niche for new business possibilities
Find your focus and direction for sustainability
Identify your purpose and the shared value you create
Communicate what you do and build relationships
Sustainability work sharpens your focus
Sustainable companies create added value for people and society. By focusing on meeting their customers' needs, they find new solutions. They are the engine of the green transition that drives economic growth on the planet's terms. And they have everything to gain.
We help start your sustainability work, set goals, and find the proper focus that leads to improvement and development. It provides you with the opportunity to review your offers and niche. When you start creating new shared value for customers, you can gain a unique position in the market.
Sustainability communication conveys your purpose
Sustainable companies build strong customer relationships. Through stakeholder dialogues, they find out what requirements and expectations the outside world has so that they can create credible and transparent communication that is value-driven.
Get help with your sustainability communication to explore and gather the outside world's knowledge, views, and wishes. It gives you essential insights into strengthening and developing the relationship with your stakeholders. When you start communicating the company's purpose, it creates trust and arouses curiosity.
Maria Lindberg Howard
Sustainability Change Coach / Copywriter / Journalist
+46 708-85 05 28
maria@beep.se
Profile on LINKEDIN
Sustainability Change Coach
One may think, what is the point of trying to do the right thing when it's just a drop in the ocean? But what is an ocean but a multitude of drops? Things change for the better when a multitude of drops form an ocean. This is how I want to contribute.
Throughout my professional life, I have worked with communication. The clients are companies of all sizes in a variety of industries. This has given me a deeper understanding of different organizations, their challenges, and opportunities.
As a writer, I am accustomed to seeing things in a larger context and quickly getting acquainted with products and services. I write commercially and editorially and adapt texts to the recipients, depending on the channel, recipient, and message.
I have vocational education from Berghs School of Communication and Poppius School of Journalism and over the years I have completed a long list of further education in communication.
In 2016 I started educating myself in the area of sustainability, Agenda 2030, and the UN Global Goals. I am a Certified Business 4SDGs Change Leader with VATI of Sweden.
Information regarding our PRIVACY POLICY
Green Onion Collective
Beep is a co-founder of Green Onion Collective, an open community with idea-based values and a cooperative approach. As members, we are driven by a strong desire to work for sustainable development based on our professional knowledge and industry experiences.
As experienced consultants in business development, sustainability and communication, we team up and combine our competencies to best help companies take the next step on the road in their sustainability work – no matter where they are along their sustainability journey. Let us put together your dream team!